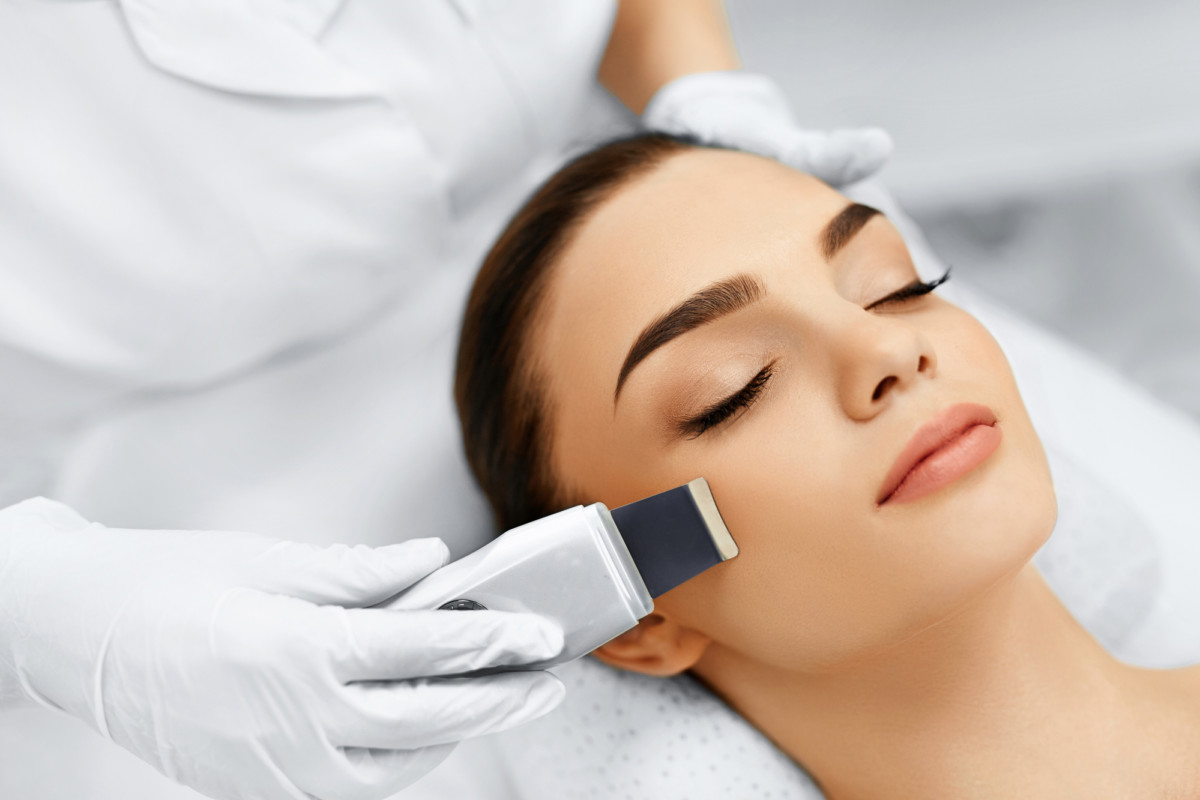 Skin cleaning
In our clinic there is a manual, atraumatic and ultrasonic face cleaning. The first is highly effective: dirt and fat are removed from the pores, pimples are squeezed out, and dead skin cells are peeled off. The second is held on the cosmeceuticals of the Israeli brand Holy Land – eliminates impurities and dead epidermis without damaging the skin through the use of natural fruit peeling. The indications for cleansing the back are enlarged pores, deep comedones, rashes, oily seborrhea and other cosmetic skin problems. The result is smooth skin and improved color, reduction of black spots and blackheads, as well as narrowing of the pores.
Sign up online
Price list
Face cleaning
Professional facial cleansing helps rid the skin of toxins, cleanse the pores and return cells to the ability to breathe normally. As a result, the complexion improves, fine wrinkles are smoothed, hated black spots and inflammatory elements disappear, cell regeneration is accelerated.
To carry out the manipulation requires consultation with a doctor.
| | | |
| --- | --- | --- |
| Atraumatic cleansing of the face Holy Land | 60 min | from 1800 rub |
| Mechanical cleaning HL | from 40 min | from 2500 rub |
| Mechanical cleaning HL back | from 30 min | from 2800 rub |
| Mechanical cleaning HL neckline | from 30 min | from 2000 rub |
| Combined cleaning HL | 60 min | 2500 rub |
| Problem skin care HL | 60 min | 2500 rub |
| Atraumatic cleansing (deep revision of the skin) | 90 min | 2700 rub |
| Combined cleaning (for all skin types) | 90 min | 3000 rub |
Care procedures
Treatments on pharmaceutical cosmetics "DMK Danne Montague-King" (USA)
DMK (Danne) is a professional line of cosmetics based on enzyme therapy, which has been on the market for 45 years and is the world leader in the correction of skin problems, both cosmetic and a number of dermatological. The DMK system has a clear concept, respecting which you always get the result (delete, restore, protect and maintain). No types - there is a skin condition!
DMK procedures and home care are indicated for patients with age-related changes, seborrhea, acne and its consequences, hyperpigmentation, rosacea, rosacea, scars, cellulite and stretch marks.
Triple face mask

This is the process of strengthening and tightening all subcutaneous structures and elements. Tightens and restores skin function.

90 min
4200 rub
Mask quick beauty

Lifting express procedure based on the action of peeling with acid DMK.

50 min
2300 rub
Lymphatic drainage

It normalizes the metabolic processes of the skin, removes toxins, improves blood circulation, nourishes the skin with oxygen and strengthens blood vessels.

90 min
3500 rub
"Training of vessels" (with couperosis)

The procedure is aimed at improving blood circulation, activation of tissue respiration and epidermis compaction.

90 min
3500 rub
Melanotech procedure with hyperpigmentation

It slows down the formation of melanin and evens out skin tone.

90 min
4100 rub
Alginate masks "Casmara"
Alginate mask is a new generation cosmetic product. It is made on the basis of a substance derived from brown algae. The advantage of alginate masks is that their use favorably affects the skin due to its ability to retain moisture. Due to active mineralization, it improves the appearance and color of the skin, helps to maintain a lasting lifting effect; provides correction of a face form; tightens pores and smoothes wrinkles; It has antibacterial and anti-inflammatory effects.
| | | |
| --- | --- | --- |
| Absorbing black mask | | 1000 rub |
| Mask "Cell elixir" | | 1500 rub |
| Mask with vitamin C | | 1000 rub |
| Mask for sensitive skin | | 1000 rub |
| Moisturizing face mask | | 1500 rub |
| Antioxidant mask with green tea | | 1500 rub |
| Regenerating mask | | 1000 rub |
| Mask Goji | | 1000 rub |
«The philosophy of health and beauty»